EVENTS, EXHIBITIONS, FESTIVALS, RESIDENCIES & CONFERENCES
Laura Jade is a designer providing innovative entertainment for events, exhibitions, festivals and conferences with interactive and educational artworks that combine light, art, science and technology.
 CONTACT
e:
 ynhen@ynhenwnqr.pbz.nh
m:
 + 61434231593
PAST EVENTS…
---
PAPER PUBLISHED
I'm thrilled to announce that my first academic paper, "New Ways of Knowing Ourselves: BCI Facilitating Artistic Exploration of Our Biology", is published!
The paper is a chapter in the worlds first book on brain-computer interfaces (BCI) that surveys how brain activity can be monitored and manipulated for artistic purposes, with contributions by interactive media artists, brain-computer interface researchers, and neuroscientists.
A big thanks to Anton Nijholt, professor of computer scientist at the university of twente in the Netherlands, who invited me to contribute to this book.
PDF: New Ways of Knowing Ourselves. BCI Facilitating Artistic Exploration of Our Biology
---

COBHAM JJC – JUVENLE JUSTICE CENTRE
I was honoured to be invited to give a workshop for the 120 teenage male's who are currently living at Cobham Juvenile Justice Centre. The workshop allowed the young men to use Brainlight's EEG and visualisation technology to gain an insight into their own mind and how their brain works. During the workshop we discussed teenage brain development, emotional intelligence and meditation techniques.
---
ELLE X MG3
On the third Thursday in August, ELLE and MG3 will be hosting the 'Power of 3' event in Sydney. Jack River will be DJ'ing, Sarah Ellen will be there showcasing her customised MG3 and Australian illumination artist, Laura Jade, will be there to blow your damn minds—by turning your thoughts into a light show.
One lucky ELLE reader will also WIN an MG3
When: Thursday, 16 August
Time: 6.30pm
Where: The Elston Room, Carriageworks, Sydney
---
ELLE X MG3 | Film Shoot
Filming at sunrise, in Clovelly, for ELLE magazine.
---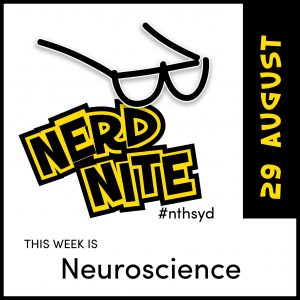 NERD NITE | Neuroscience
Feed your inner geek this August! Nerd Nites will feature passionate bite-sized talks on weird and wonderful topics – they're like FREE mini TED Talks, with beer!
This Wednesday from 5.30-7pm experts will discuss Neuroscience at Rag & Famish Hotel – North Sydney.
Dr Asheeta Prasad from UNSW on "To drink or not to drink".
Experience Brainlight – An Artist, Software Developer and a Neuroscientist collaborated to create an interactive new technology that allows us to experience one of the most puzzling aspects of ourselves – our minds. It demonstrates the innovative use of augmented technologies custom programmed to show the inner workings of our brain in vibrant coloured light.
---
The Hub welcomes artist Laura Jade to talk about her renowned Brainlight: a mix of science, light and art.  Join Laura Jade for a fascinating talk and demonstration of Brainlight: a brain sculpture that lights up with the power of your mind. Laura will also talk about her collaboration with neuroscientists and programmers in the development of her art and how complex data and light can be used to communicate brain activity. This talk is a must for anyone interested in neuroscience, programming and art and design.
This event is supported by the Northern Sydney Science Hub.
FREE- Bookings essential
RSVP HERE 
Start Date & Time:
Thursday, 31 May 2018
6:00-8:00pm
Address:
Chatswood Library on The Concourse,
Lower Ground, 409 Victoria Ave, Chatswood
---
2SER Interview by Jess Klajman with Laura Jade
20th May 2018
What are the characteristics of an illumination artist?
How did you become involved in the fields of neuroscience and biology?
How does the scientific world and public respond to your final works?

---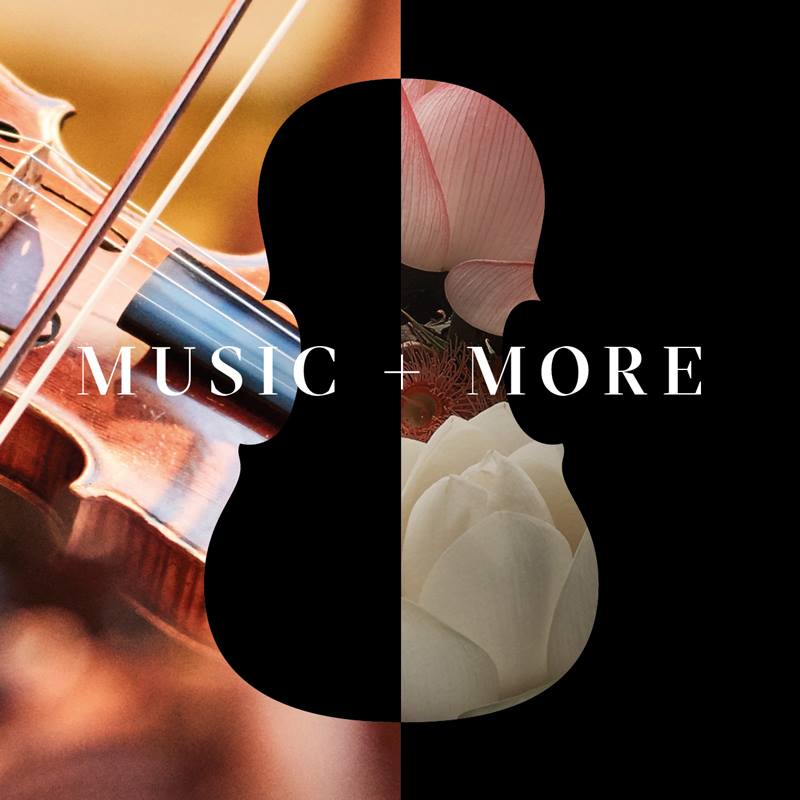 Yellow House Gallery
6pm-9pm
7th-9th March 2018
Sydney Art Quartet – Light Fantastic.
Want to see how music makes you feel? Can you turn sound into brainwaves & light? This multi-sensory experience vividly demonstrates the powerful effects sound has on our mind. Come hear, feel and see. Featuring the music of Beethoven, Tool & Haydn revealed in sound, light & brainwaves as the Sydney Art Quartet begin a fabulous exploration of music and our very human responses to it. Using a giant model of the human brain (aka the Brainlight) and some very clever technology, we will witness in real time how musicians and audience respond to exquisite and passionate music. Come hear, feel and see thoughts and music reflected in light.
---

GOGBOT
 7–10 sept. 2017 Enschede NL
GOGBOT festival is the annual showcase for creative technology, electronic music and contemporary art. The festival has been running since 2004 and it lasts for four days and nights. GOGBOT's mission is to provide an inspiring platform for the most original, the most visionary and the most avant-garde artists active today. Innovation in digital creativity is key and the festival creates a sonic space for this. The festival offers a stimulating rendez-vous for artists, professionals and visitors.
---
ATHENS DIGITAL ARTS FESTIVAL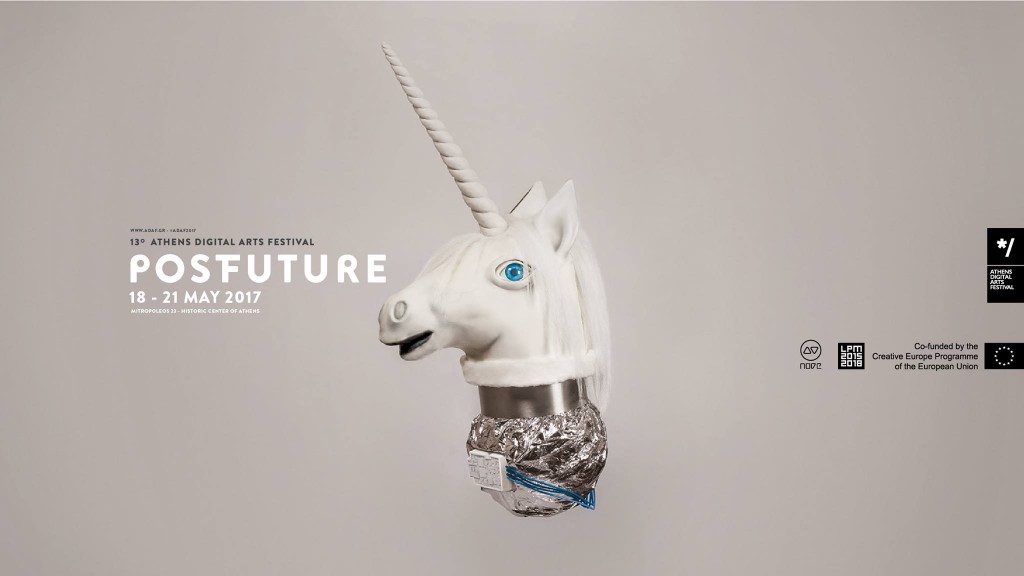 Athens Digital Arts Festival 2017 (ADAF) presents #PostFuture ; The future as seen from the past and the past as seen from the future.
Athens Digital Arts Festival (ADAF) returns for its 13th edition that will take place on 18 – 21 of May at the historic center of Athens.
Under the theme of #PostFuture, ADAF 2017 aims to explore the future of digital culture, merging the digital and physical boundaries and discovering the effects of this futuristic lifestyle in the different aspects of everyday life.

---
VIVID FESTIVAL 2017
A children's kaleidoscope box installation as part of the Vivid Festival at Westfield, Pitt Street Mall. The theme of the installation was 'When we were kids..' transforming the shopping experience into a wonderland of memories of games we use to play as children.
---
ILLUMINATE FESTIVAL, WAGGA WAGGA
Illuminate Wagga is the Riverinas first festival of light and sound and will be run over two consecutive nights over the Easter long weekend – Saturday 15 and Sunday 16 April 2017.
---
LUTHER EXHIBITION, THE SACRAMENTS
An exhibition celebrating the 500 year anniversary of Martin Luther and the reformation of the church.  Currently on exhibition in crypt of the Berliner Dom, Berlin, Germany. It features 6 boxes representing the sacraments of Lutheranism.
Featured artists: Ingo Bracke (Law), Cornelius Poepel (Prayer), Clare McShanag (Creed), Mike Day (Confession), Laura Jade (Baptism), Kris Peta Deray (Communion).
---

~MINIATURE~ COLAB GALLERY
My work Micro-Botany Of Iceland is part of a group show that is launching a brand new gallery at Pine Street Studios. The opening of •miniature•  an exhibition of 12 artists exploring small forms or tiny subjects. Drinks and live music from 6-8pm Wed 1st March 2017, 64 Pine St, Chippendale
Micro-Botany of Iceland
Light Boxes series
Seals Fur, Fish Bone, Dandelion Flower, Dandelion Stamen, Seaweed, Sea Urchin.


---
BRAINLIGHTING FOR CHINESE NEW YEAR
Brainlight was installed for the Cure Brain Cancer foundation in February 2017 at Pitt St Mall,  Sydney. Celebrating Chinese New Year- we got to hand out free noodles! -and interact with our brainwaves to raise awareness for brain cancer.


---
 

ICELANDIC ART RESIDENCY
NES STUDIOS
I was an artist in residence at NES studios in Skagastrond, north Iceland for the month of October 2016. I have been playing around with new project ideas, researching bio-rhythms, electromagnetic fields, light and the aurora.
---
WORLD OF WEARABLE ART (WOW)
WOW Competition, 22 Sept- 9 October 2016
Queens Wharf, Wellington
Luciferin and Hermaphrodite were selected finalists in the 2016 WOW competition.
The wearable interactive light costumes I created were based on a Sci-Fi inspired vision of a bioluminescent immortal hermaphrodite transhuman cyborg jelly-fish.
The World of WearableArt™ is WOW is a leading international design competition and New Zealand's largest arts show. Each year, it creates a new theatrical world in which incredible garments are brought to life. Over 50,000 show-goers attend annually from around the world to witness this stunning spectacular of dance, theatre, music, and art- a creative theatre show where artists can push the boundaries of wearable art and design.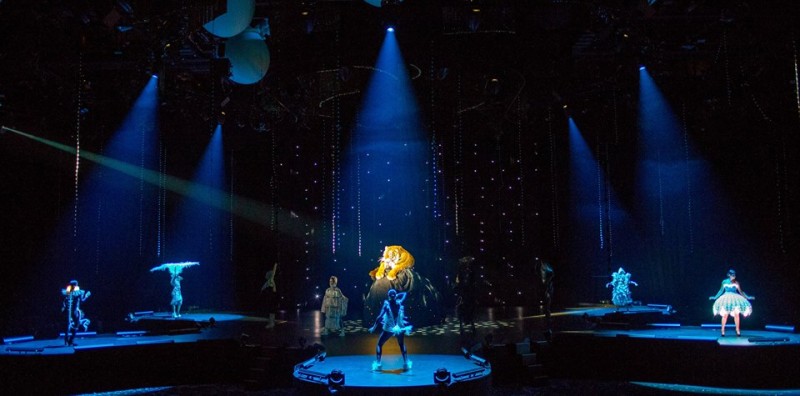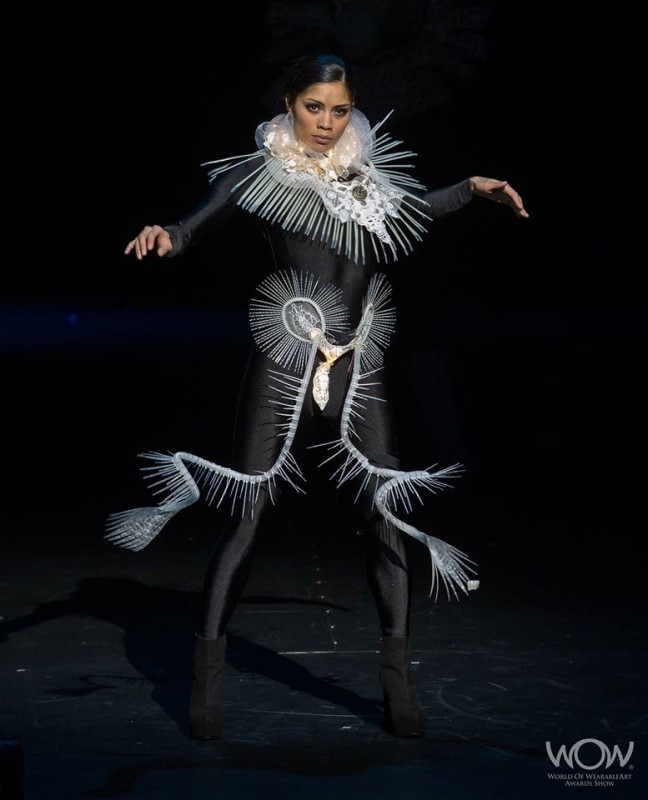 ---
ARS ELECTRONICA

: INTERACTING ART EXHIBITION
7-12th of September 2016, Initiative Raumschiff, Linz, Austria
I was fortunate to be invited to participate in a collaborate exhibition during Ars Electronica festival in Linz, Austria. A collaboration between 15 diverse artists who worked in Initiative Raumschiff for one week to bridge together our unique interactive projects to become an experimental yet unified experience.
'A play on artworks, works in process and working things out by doing – together. Through negotiation, juxtaposition, and re-contextualization, various works and non-works are woven into an interface for the audience, built through interactive, textual and performative processes. The project uses the medium of interaction in a way that allows the pieces to leave the traditional space of artistic discourse and to occupy instead the space of dialogue'.
With Stella Baraklianou, Yen Tzu Chang & Yoh Morishita, Maria Czernohorszky, Isidora Ficovic, Laura Jade, Mary Maggic, Francesco Nordio, Patrick Schabus, Henning Schulze, Julio Sosa, Federico Tasso.
A project by
Davide Bevilacqua, Sam Bunn, and Sewal Six.
---

STARMUS FESTIVAL 2016
STARMUS FESTIVAL 2016
Tenerife, Canary Islands
Starmus festival is an Astronomy and Music conference that celebrates science and the arts on the volcanic island of Tenerife (the location of one of the best observatories in the world). With the goal of bringing an understanding and appreciation of science to the public at large, Starmus gathers an international star line up of artists, musicians, and Nobel laureates to celebrate science and discuss the latest research and global issues.
It was a pleasure to share my miniature travelling Brainlight artwork with some of the bright minds who were speaking and attending the festival.
---
 THE MYSTERIOUS WORLD OF UNDERGROUND SCIENCE EXHIBITION

---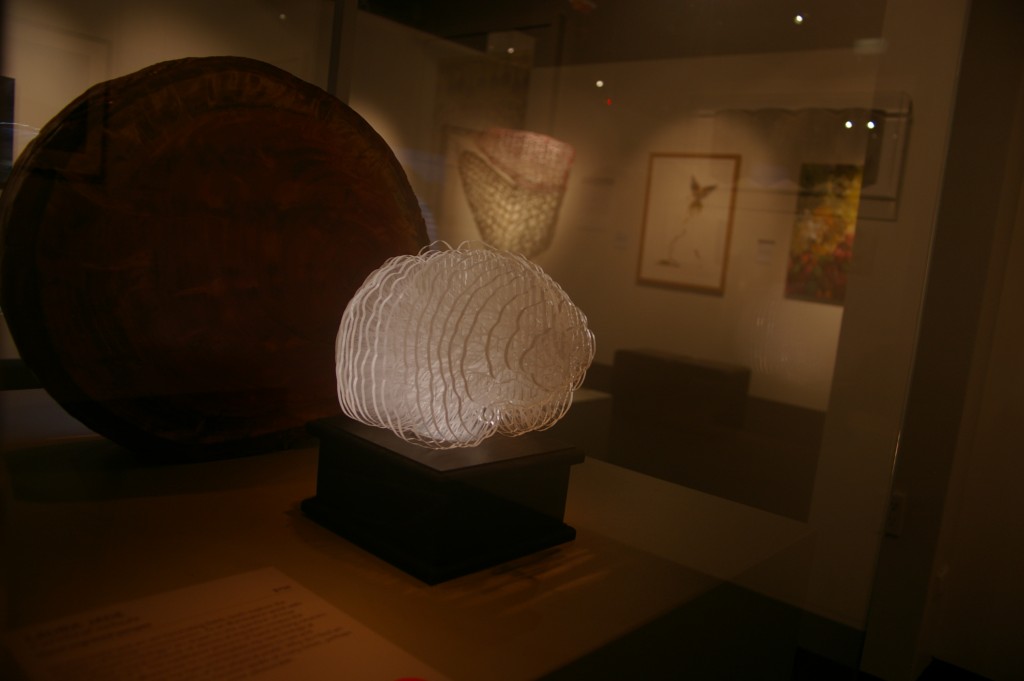 Cerebral Nebula
Hand engraved Perspex
160 mm x 200 mm x 160 mm
Exhibition
The 2016 Waterhouse Natural Science Art Prize exhibition is on at the South Australian Museum from 10 June – 31 July 2016.
The Waterhouse Natural Science Art Prize was launched in 2002, it brings together art and science inside a natural history museum and commemorates the birth of the South Australian Museum's first curator, Frederick George Waterhouse. The prize is an opportunity for artists to investigate the world around them, and present their perspectives on natural science.
More Info: http://www.waterhouse.samuseum.sa.gov.au/gallery/
---

The Cell Block Theatre, National Art School, Forbes St, Sydney NSW 2010 28/5/2016
I was very fortunate to present the interactive Brainlight at an incredible event as part of Vivid Ideas and in support of the Cure Brain Cancer Foundation. The two panels explored the creative mind and the future of creativity through AI technology.
Panelists: Dr Charlie Teo, Neurosurgeon Angus Hervey, Co-Founder of Future Crunch Andrèz Coco, Designer Catherine Stace, CEO of Cure Brain Cancer Alexander Klat-Smith, Partner at PwC Australia  Tane Hunter, Biologist and Cancer Researcher Dr Jordan Nguyen, Presenter of "Being Superhuman" ‪ Sponsored by Indeed
More info: http://www.vividsydney.com/event/ideas/night-disruptive-ideas-how-creative-genius-manifests-different-industries
---
ICESI UNIVERSITY, CALI, COLOMBIA 16/10/2015
Laura Jade was invited to Cali, Columbia to display the BRAINLIGHT and give a keynote presentation about her designs at the  "Hoy Es Diseno" (Design Today) conference at the ICESI University on the 15th & 16th of October 2015.
More details here: http://www.hoyesdiseno.com/ 
LAURA'S LECTURE & LIVE DEMONSTRATION:
---
CULTURE AT WORK
28/11/2015
ART+NATURE+SCIENCE 2010-2015 is an exhibition of 35 artists working with science and  technology in CULTURE AT WORK's Residency and Exhibition program over the past 5 years.
More info: http://www.cultureatwork.com.au
---
CHIPPENDALE CREATIVE PRECINCT 19/9/2015
---
MCA  ARTBAR
MUSEUM OF CONTEMPORARY ART 28/8/2015
---
CULTURE AT WORK
22/8/2015
---
A B C  C A T A L Y S T

PYRMONT STUDIOS 17/8/2015
---
S Y D N E Y  M I N I  M A K E R  F A I R E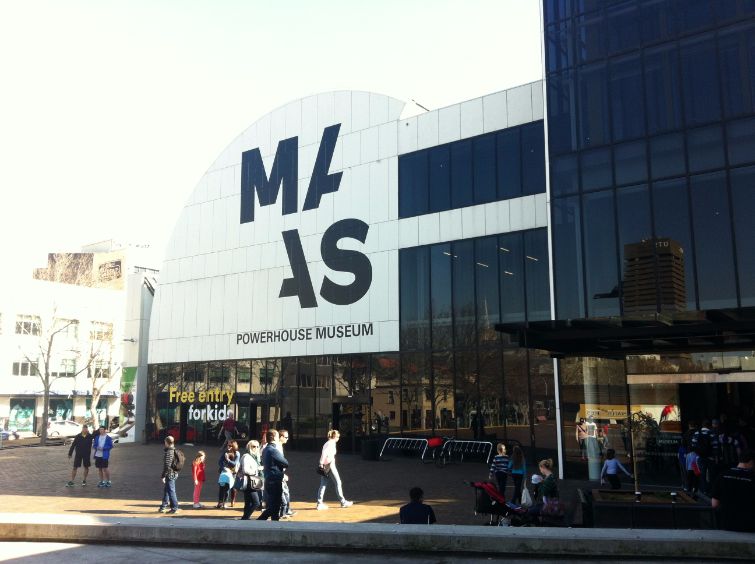 POWERHOUSE MUSEUM 15-16/8/2015
S Y D N E Y  S C I E N C E  F E S T I V A L

AUSTRALIAN MUSEUM 13/8/2015
---
 BACKYARD BIO-TECH TALKS 23/7/2015
---
B R A I N L I G H T  L A U N C H
---
P Y R M O N T  F E S T I V A L

ACCELERATOR GALLERY 15-16/5/2015